Getting a fly or lure caught in a tree or bush can be frustrating. We know this frustration so we developed 4 different retrieval tools that help you get your Flys & Lures back quickly and easily so you can save money and keep fishing.
GET IT BACK!
4 Models Suited to Your Style of Fishing
1) Quickly Attach the CatchALure Retriever to the end of your rod.
Don't want to use your rod? Choose our retractable Telescopic Extender option.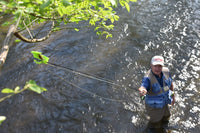 2) Reach the Retriever out to where your fly or lure is stuck. Strong Magnets on the Retriever will hold the metal hooks of your fly or lure.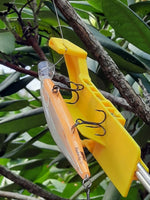 3) Guide the V-Cutter on the Retriever over the fishing line just behind the fly or lure. Pull Down to cut the line and retrieve your fly or lure. Detach the CatchALure Retriever, and Keep on Fishing!
GET IT BACK!
I guide over 250 trips a year for the past 4-5 years. Can't tell you guys how many I've recommended ever since the year 2020. It gets used every trip, every day almost. Used so much my original blade is dulled & chipped. No more bloody, beat up knuckles for me trying to pull a 2 fly rig set up out of trees. I send folks directly to your site. Appreciate a small company that most will look over, awesome product. Thanks guys. 



Jesse, Smoky Mountain Angler
Its not about getting a fly back, as much as, getting back THE only fly that's working that day. Now I'm going to buy a Conventional for my lures. A must add to your fishing tackle arsenal!

David
I got the CatchALure Fly Retriever as my yearly gag gift to my brother for Christmas. It was soo worth the money when he admitted it he uses it all the time!

Evan